Turkey

A cultural bridge between Europe and Asia, rich in history, steeped in tradition and with legacies of ancient civilisations, Turkey is an endlessly fascinating land...

Many of the world's largest and best preserved archaeological sites are found here. Dotted all around are ancient buildings and ruins dating as far back as the start of civilisation. With turquoise seas, unspoilt coastline, spectacular scenery and numerous sheltered inlets, Turkey is truly magnificent. A yachtsman's paradise!!!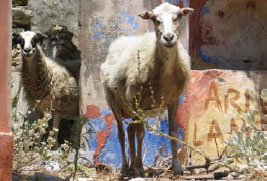 The people of Turkey are noted for their hospitality. There is always a warm and friendly welcome wherever you go. Their open friendliness and genuine interest in others are just two of the qualities that make this country unique.

Shopping and provisioning can be an adventure in itself. The market place is the hub of every village and all resemble Ali Baba's cave, providing anything and everything the locals could possibly need. An astonishing array of jewellery, flowers, clothing, household items, garden tools, leather goods and luxurious hand woven carpets are all on show together.

Fresh local produce is in abundance and stacked high in precarious, colourful displays. You will be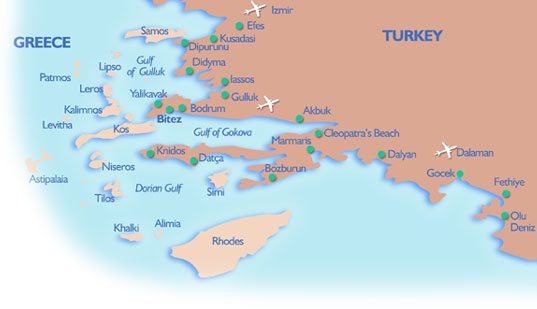 invited to sample everything from homemade cheeses, pickles and olives to exotic fruits, nuts and sweet pastries.

Eating out is a way of life for the Turks. Their cuisine offers a huge variety of flavours and is ranked as one of the best in the world. It is also extremely good value and inexpensive, a 2 course meal with wine averages around £15.00. The setting is often as memorable as the meal itself.

The Sailing
Sailing from our base at Bitez near Bodrum you experience the most beautiful cruising grounds in the Mediterranean. To the North, South, East and West of Bitez are fabulously varying sailing areas. The Turkish coastal belt has the sweet perfume of mandarin groves, pine forests and flowering oleander.

No matter in which direction you head you will find remote secluded bays, unspoilt fishing hamlets and colourful coastal towns.

The Gulf of Gokova is to the East and at its entrance is Bodrum, alive with bars, restaurants and bustling market stalls. Here you can get lost in time bargaining for virtually anything from exotic
spices to silk carpets. In the contrast of this hive of activity are the many sheltered anchorages cleft deep into the mountainous coastline. Explore and discover small fishing villages, farming settlements and hidden coves where simple wooden jetties are the watermark of cheerful easy going restaurants. These are the places where you can really let your hair down and join in the local entertainment of folk songs and belly dancing.